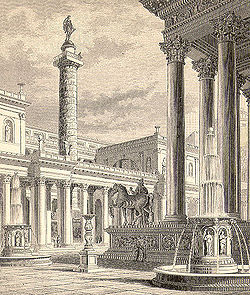 As I have allowed myself to fall down the hobbyist rabbit hole that is game-mastering, I have find myself drawn to various
blogs
,
sites
,
writings
and
other forms of written communication
on the subject of mastering games. I think this is a good thing, as when I am reading, I am not talking my girlfriend's ear off about "the neat thing I have planned for next week's game that I can't actually tell her about." She likes playing the game... not running or talking about it.
Anyway, in my wanderings through the
Land of Blog
, I stumbled upon a series of articles called
The Architect DM
. The blog deals with spatial design issues related to constructing a fantasy setting as told by a GM who happens to be an architect, IRL. The Architect DM articles are a truly inspiring read, not only from the standpoint of providing a deeper insight into how actual design concepts can be applied to not-actual settings, but also as a fascinating example of how a person's real-life experiences can manifest in the game world. I would love to see other "Job"-DM series. "Police DM" (Law-enforcement in your game) "Teacher DM" (using gaming for educational purposes) and so on...
Point is: Check it out, I promise you wont be disappointed.