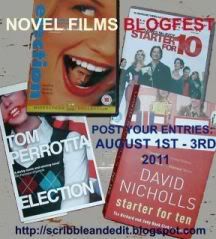 Okay party people, being a combination movie and book nerd (Are you reading this, Olivia!?), I have decided to jump on Scribble & Edit's
Novel Films
blogfest. The festival asks participants to list all of the books/plays/comics that they have read that have also been turned into movies that they have seen. So, here goes mine...
The Lord of the Rings trilogy
The Harry Potter series
Dune - The TOOTH!
Tarzan - These books were my first foray into fantasy novels
The Three Musketeers - The Disney movie is entirely different from the book, but enjoyable, nonetheless.
Pride and Prejudice - I am confident in my masculinity!
X-Men - Comics are tough to judge, because the movies typically span and warp several storylines
The Watchmen
Lone Ranger and Tonto, Fistfight in Heaven - Smoke Signals
Animal Farm
Mrs. Frisby and the Rats of NIMH - Secret of NIMH
Watership Down
Don Juan - Don Juan de Marco (It's a stretch, I know!)
Angela's Ashes
Heart of Darkness - Apocalypse Now
The Time Machine
The Lion the Witch and the Wardrobe
The Golden Compass - Despite everyone's legitimate issues, I enjoyed the movie!
Jurassic Park
The Scarlet Letter
The Last of the Mohicans - James Fenimore Cooper is an intolerable author, but the movie was entertaining
Of Mice and Men - Both the Malkovich/Senise version and the multitude of Looney Toons references. "I shall mash him and pet him and name him George!"
The Hitchhiker's Guide to the Galaxy
The Neverending Story - I can't believe I forgot this on the initial list!
Like Water for Chocolate - Read it over Thanksgiving, DELICIOUS!
The English Patient - The book was far better than the movie
Little Shop of Horrors - Now here's an interesting case of a movie turned into a play, turned back into a movie.
Rosencrantz and Guildenstern are Dead - Tom Stoppard as portrayed by Tim Roth and Gary Oldman? Awesome!
Death of a Salesman - Though I'm honestly not a huge fan of the material, I do often find myself worrying about turning into Willy Loman.
Shakespearean plays deserve their own subsection!
Romeo & Juliet - both Franco Zeffirelli's and Baz Luhrmann's versions
Hamlet - Both the Kenneth Branagh version and Strange Brew!
Henry V
Richard III
Twelfth Night
Macbeth - Scotland P.A. is my favorite movie reimagining of Shakespeare's work, EVER!
A Midsummer Night's Dream
Taming of the Shrew - Both the Liz Taylor version and 10 Things I Hate About You
Okay, that is the list I can come up with off the top of my head. I'm sure there are some missing, so I may make some supplemental posts later.
I will close with the inclusion of the trailer for the soon-to-be-released The Pirates! in an Adventure with Scientists. If you haven't read the book yet, go read it now! I have to admit the movie trailer makes me a bit nervous. I am encouraged by the fact that Gideon Defoe worked directly on the film and I like Aardman's other stuff... but still.